Chi Bartram Wright,

Founder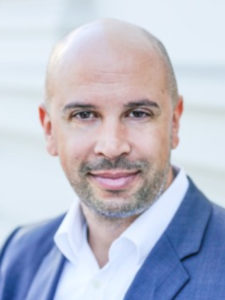 In his early 20's, Chi launched an award-winning Boston-based start-up, learning how to pitch his ideas to thousands of customers and business partners over several years. By his mid-30's, Chi had served as the President of Columbia University's Graduate School of the Arts Student Council, as Artistic Director of a Detroit theatre company, as a spokesperson for Volvo North America, and had directed the world premiere of Bee, a play by Pultizer-winning writer Suzan-Lori Parks.
Now an internationally-recognized executive coach and trainer, Chi has consulted and mentored executives on leadership communication, business development, and career transition for Goldman Sachs, EY, Deloitte, AIG, Cisco Security, Medtronic, The World Wildlife Fund, Shire Pharmaceuticals, Randstad, Carbon Black, SwissRe, among many others.
As the driving force behind The Applause Institute's cutting-edge curriculum, Chi relishes the opportunity to stand in front of a room of a few dozen executives, with only five flip charts, three Sharpies, and his deep expertise mapping change. With over 25 years in experiential education, Chi has delivered powerful leadership development for diverse audiences including multinational conglomerates, business schools ISMI in Paris and Haas at UC Berkeley, new-thought retreats Kripalu Center and Esalen Institute, New York City Public Schools, the public school system of the country of Laos, and San Quentin and Riker's Island prisons.
Chi is currently working on his first book, a memoir about his parent's controversial 1969 interracial marriage. Through their public speaking work, Dr. Carolyn May and Rev. Dr. Nathan Wright, Jr. made significant contributions to the civil rights, women's rights, and human potential movements.
Chi holds a Bachelor's in Education from Lesley University and a Master's of Fine Arts in Classical Theatre from Columbia University.
"Chi's instruction and real-world knowledge will never leave me. He taught a framework and structure that only increased my strengths as a leader. The impact on my life has been profound. It goes beyond my work and into the lives of my community. Chi is phenomenal at pulling out the best you have to offer."
— Raymond Flores, WLAN Consultant, Cisco Systems
"Chi taught us how to elevate our message and deliver it in an impactful and concise way. The results were amazing and the entire team felt confident and empowered by what we learned. We felt we could use the techniques for messaging and delivery immediately."
— Amy Hensiek, Partner Marketing Manager GEH, VMware
"Chi delivered outstanding communication training. He was able to install confidence and increase skills in all of us. He helped me to develop and hone my pitching skills, enabling me to have powerful conversations. I am now able to walk into any situation — from board room to community meeting — and pitch my ideas with success."
— Esther Foreman, Director of Movement Building, The Young Foundation
"Chi helped me radically transform how I share what I'm passionate about. Chi's guidance helped me create dialogue within the first thirty seconds with the founder and new CEO. No slides, just authentic engagement deeply anchored to all the facets of my presentation. I now have a flexible template for sharing what I want to do in the world. I cannot thank Chi enough."
— Brandon Cline, Change Lead, M Squared Consulting
"Empowered would be the one word I could use to describe [the result of] my interaction with Chi during a recent leadership training. The structure of the course, having the skill set needed to deliver the course, and his ability to work with a group to provide a degree of individual attention created a great learning and networking environment."
— Maurice Spencer, Unified Collaboration CSE, Cisco Systems
"Chi's penetrating, hold-my-feet-to-the-fire facilitation strategies allow my mind to resurrect itself into positive self-reflection. Chi brings his personal self-empowerment to the task of sitting with clients. I respect his presence, his clarity of mind and his heart."
— Pamela Ellen Blodgett, Owner, Brain Training of New England